From choice of materials to innovative heater technology, every Sun Stream infrared sauna is produced with your health in mind.
The safest and best quality range of infrared saunas on the market
Supplying to the UK and Europe.
Sun Stream infrared saunas feature industry first 360º body coverage, ultra low Electromagnetic Field (EMF) and Electric Field (ELF) heaters and 100% solid Hemlock timber construction.
Four reasons that make Sun Stream the first choice for infrared saunas

Safety
Our innovative heater technology reduces EMF and ELF to industry low levels, making Sun Stream saunas safer than any other brand on the market.

Superior performance
The most complete body coverage of any sauna brand, our heater placement and 360º technology provides greater immersion in radiant heat.

Lifetime warranty
The Sun Stream range comes with a Residential Lifetime Warranty which includes the heaters, electronic control system, cabinet, and even the light bulbs.

Free delivery
We offer free delivery to most European major metropolitan destinations and part charges to other destinations.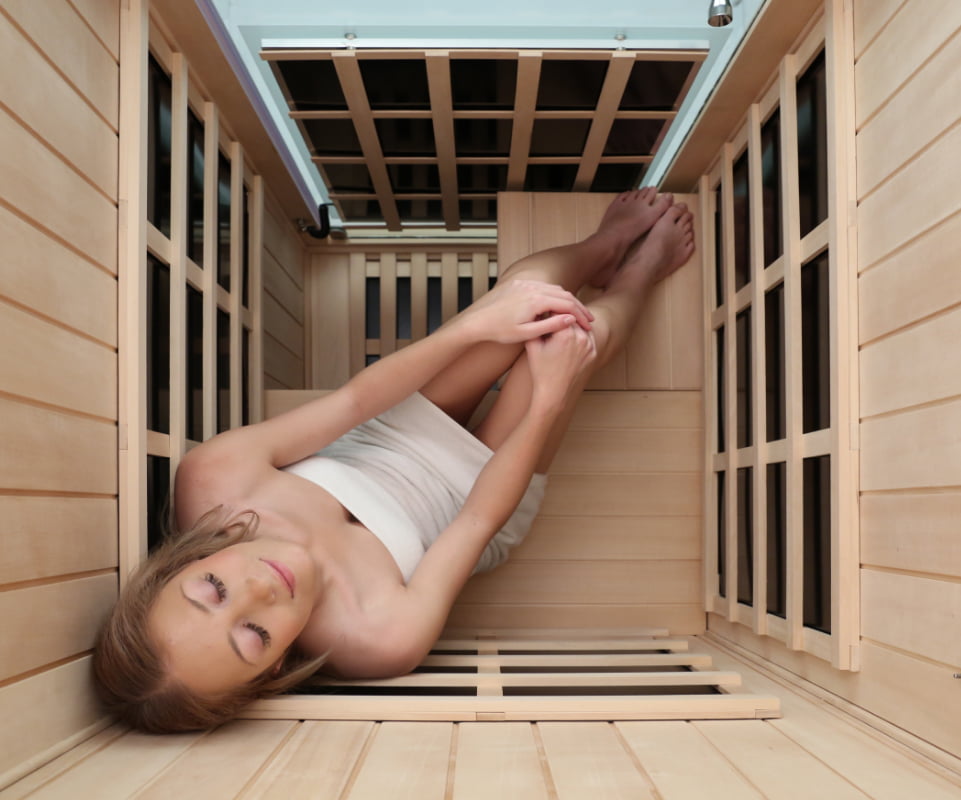 Why choose an infrared sauna?
An infrared sauna emits a band of light we perceive as heat. Infrared is not only safe but also highly beneficial to our bodies on a cellular level. Health professionals have used infrared heat lamps for decades to treat muscle and joint problems. The health benefits can include:
Relief from aches, muscle pain and arthritis

Fever therapy for colds and Flus

Improved immune system

Detoxification

Improved blood circulation and oxidation

Aids weight loss

Skin rejuvenation

Cardiovascular health and improved blood pressure
Not sure which sauna is right for you?
We know choosing a sauna can be a big decision, and something that can take a lot of time to research, that's why we're offering to do all the hard work for you.
Simply let us know which Sun Stream sauna you're interested in and the competitor's product you'd like to compare it against, and we'll do our best to send you an impartial evaluation of the two models.
Compare brands
"*" indicates required fields
Sun Stream Infrared Saunas is your pathway to better health
At Sun Stream Infrared Saunas we firmly believe that our infrared saunas are the healthiest and best performing on the market and for good reason. Featuring industry first 360 degree body coverage, Ultra Low EMF and Near Zero ELF Electric Field heaters, constructed from 100% Hemlock timber with FDA approved food safe glue, we go the additional mile for your complete safety!
Features include:
Sun Stream Infrared Saunas originated in Canada in 1999 and is one of North America's original infrared sauna brands. Sun Stream Saunas are available in the United Kingdom, Europe, New Zealand, Australia, Canada and the USA.
With over 20 years of sauna design and experience, Sun Stream Saunas is committed to providing you with the most effective, powerful and the safest infrared sauna experience possible, these are our top priorities.
Sun Stream have given careful consideration to all aspects of the sauna design and construction, including the sauna room sizing, heater sizing and heater placement to ensure that the maximum amount of infrared radiant heat is delivered directly to your body and not wasted.
What sets Sun Stream Infrared Saunas apart?
Sun Stream Infrared Saunas are produced with engineering excellence in mind, this means that the saunas performance and effectiveness are key to delivering the best Sauna experience possible. This attention to detail is highlighted with the care taken in the choice of  construction materials of the sauna, attention has been given to ensure that all materials used have near zero VOC's for an all-round healthier sauna experience.
The industry first Sun Stream Evolve 360-degree saunas surround you in complete 360° radiant heat with our low EMF/ELF nano-carbon panels, this includes exclusive front door mounted heaters delivering a greater immersion in infrared radiant heat to your body which gives a true 360° infrared body coverage.
To ensure a healthy sauna experience, Sun Stream Saunas are built with 100% solid wood Canadian Hemlock, there is absolutely NO plywood and NO particleboard used in the construction of these saunas. The attention to detail even goes down to the glues that are used, the use of "Titebond" wood glues are the only glues used. These glues meet and exceed the FDA criteria for food contact safety.
Sun Stream has been a leader in the infrared sauna industry and was one of the first sauna companies to introduce the low EMF magnetic field heaters in 2010. In 2019 they have introduced the new Evolve EHS heater system which mitigates both EMF magnetic fields and EF/ELF electric fields to bring these to an all-new industry low.
Sun Stream Infrared Sauna are proud to be able to provide the best, healthiest and safest Infrared Sauna available in the UK and Europe, your pathway to better health.